Here comes the iPhone Baby
Here comes the iPhone Baby!
"Hi, folks. I am the iPhone Baby. Glad to see you."
This iPhone Baby enjoys his own iPhone 3G. The other day he lost his iPhone somewhere, but it was not a big trouble for him because he was able to push the icons on the tummy instead of those on his iPhone. (Later, he bought his iPhone again at a local Apple Store, though.)
He wears an underwear with short-sleeves. Look at something on his back!
He seems to love iPod nano (4th edition).
"nano-chromatic"
On top of that, this iPhone baby has another baby cloth. This cloth is larger than the other one.
He wears a larger cloth because he knows he grows rapidly.
The icons on the iPhone baby's cloth are default.
The iPhone Baby tells me that he wants to install many game applications on his iPhone.
After a while iPhone Baby invited his friends, iPod Babies.
The iPhone Baby and the iPod babies started conversation about apple products.
"Hey, why don't we go to Apple Store Ginza at the center of Tokyo? I really want to buy Apple's new
baby bottle (Early 2009)
! MacRumors says that a user can choose a new baby-sitter if the user buys the bottle. Not to mention this is just a rumor."
"Give me a break. Apple's new baby bottle (Early 2009) is for amateurs. Because I am a pro Apple user, I want
iRattle (2nd generation)
. I heard this is two times faster than the old PowerPC model. Of course, I will choose the new Intel model. Logic Pro (infant's edition) will be faster in iRattle. I remember Shaw Wu, an analyst with American Technology Research, was saying something about...."
"Stop joking! True Apple users ought to choose
iDiaper
. Don't you remember Jony was referring to an excellent unibody of iDiaper on the video at the special event named "Spotlight turns to diapers" last year? I like eco-conscious packaging of it. If you try iDiaper, you will feel chilly in the butt at first, but don' worry. It will be comfortable soon. I have written a review about iDiaper on Apple Discussion Board."
"No way! I want iLife 09 and iWork 09 retail packages. I am willing to test them on my MacBook 2.4GHz (Late 2008) soon. Besides, if available, I want to test Apple In-Ear Headphones with Remote and Mic. With that, I will be able to enjoy my favorite baby songs on my new iPod classic (80GB). The advertise says headphones offer pro audio performance and impressive sound isolation, but I want to confirm their quality myself. Do you guys agree?"
(The three.) "Agree."
***
I am going to show you how you make this cloth. First of all, you need iron-on transfers and baby cloths.
First, you need to create a mirror image of the picture you want on the cloth. For my case, I used Preview.app and chose Flip Horizontal. By doing so, I was successfully able to create mirror images. Maybe your printer driver can help you create mirror images.
Next, I used Pages.app and print the pictures out on iron-on transfer with a HP inexpensive ink-jet printer.
Unfortunately, the right side of the print is slightly cut. (I should have paid full attention to the printing before I use iron.)
I have successfully created this one.
The opposite side.
This looks nice.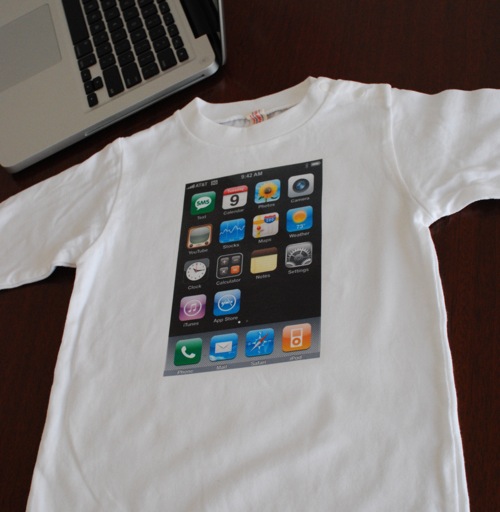 [Important notice]
I have heard that some iron-transfers could contain chemical products, such as formaldehyde, which may affect human bodies. Since babies are easily affected with bad chemicals, we should choose formaldehyde free iron-transfers. If you are going to try iron-transfers for baby cloths, please pay highest attention to the ingredient of the iron-transfers and confirm it will not harm babies.
High resolution pictures are available at the following URL.
http://www.apple.com/pr/products/

Wow,
Cult of Mac
picked this blog entry!
The honor is all mine!
"Cult of Mac" Leander Kahney

I recommend all Mac lovers to read this excellent book. This describes Mac lovers in Japan in many pages. Five stars.
なお「どの Mac を購入していいかわからない」という方のために、Mac購入ガイドを下記の記事で解説しています。ぜひ参考になさってください。オススメのMacを紹介しています。
▶︎▶︎
「
Mac購入ガイド (おすすめのMacはこれだ)
」